Great location
Stunning mountains near Prague.
Pick-up & drop-off
Return transfers from your hotel to the ski resort.
All inclusive trips
Instructors, ski or snb gear, clothes, ski pass, lunch.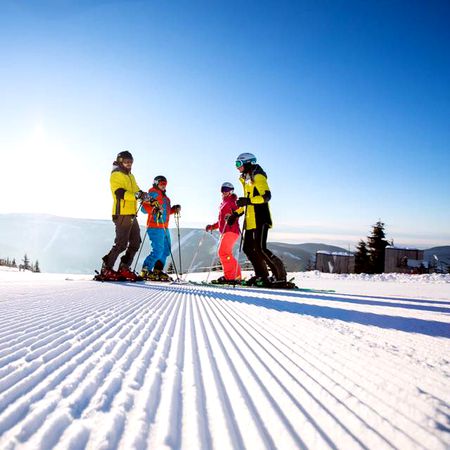 from CZK 4,200 / €170
It only takes 2 minutes to book
Confirmation within 15 minutes
Book now to secure your spot
What is included
Pick-up & drop-off • from & to your hotel in Prague
Both-way transfer • in a heated minibus
Ski pass • ski school area for beginners, or all slopes for experienced
Instructor • English speaking teacher for beginners (not included in programs for experienced - included in programs for beginners only)
Lunch or dinner • with a drink
Skiing gear • ski, ski poles, boots, helmet, goggles, gloves, skiing pants, and jacket
Snowboarding gear • snowboard, boots, helmet, goggles, gloves, snowboarding pants, and jacket
Joseph our driver was amazing kind helpful. Ski instructor lovely. Highly recommend! Worth every penny.

It was an amazing trip, my family enjoyed it very much. The instructors were great.

Kate is a great snowboard instructor and relatable, while Joseph is funny and a great driver.

Amazing! Highly recommended.

Me and my girlfriend went skiing today had a blast.

Recommend to anybody who wish to get his adrenaline pumping.....I really loved it

An amazing Skiing experience for beginners...

Brilliant service. We booked a day trip skiing just after Christmas and the team made the impossible possible!

Kate was my guide and she was bang on time to pick me up and very nice..as soon as we arrived i put my skis on and i skis non stop till 4pm

😊

We booked a skiing tour and it was really one of those trips that everyone needs to have in Prague.
9 Skiing & snowboarding packages
When & where
Dec–Mar: pick-up available daily from 7 AM to 2 PM
Ski Resort Moninec, Ski Resort Jested, or Ski Resort Spindleruv Mlyn
7–14 hours total (from pick-up to drop-off)
The day trip skiing to Liberec was very well organised and communicated. All parts of the day were well thought out.

Ski and snowboarding package was amazing!!

We went to ski in Jested and was worth every penny! Our van driver was amazing and the ski slopes were excellent! Great teachers also!

A fantastic experience, at a competitive price.

Very nice ski experience to Jested! I definitely recommend them!

Our Ski instructor spoke very good English and was very friendly and fantastic at teaching !

We take a trip to ski with enjoy Prague and it was incredible! Bob and Martina was a great!

Absolutely brilliant day trip. Great value for money, all equipment provided.

Wonderful experience and an extremely helpful instructor!

Would highly recommend this company. Thanks for a brilliant day skiing/boarding! ⛷
Description
This is the perfect trip for newbies and experienced skiers & snowboarders alike.
Amazing fun in snow guarantees you the ski & snowboard school with professional instructors for beginners and an amazing choice of easy to hard slopes for experienced.
In this most accessible winter sports resorts around Prague, you can find terrain suitable for everybody - for demanding experienced skiers, beginners, and small children as well. You can choose from various skill levels, short and long runs. You will be able to find a slope that corresponds to your abilities.
Pick-up in Prague
Your driver picks you up at your preferred address.
Ride to Ski resort

1.5 hours

After leaving the city of Prague follows ~1-hour comfortable ride to the mountains
Gear

20 minutes

You'll be advised of the choice of the adequate ski or snowboard with the complete gear.
Snow action

4 hours

The non-experienced ones will be taken up by a professional instructor from the local ski school, who will teach them the basics of skiing or snowboarding. The experienced ones will get the ski pass and the map of the whole ski resort and may jump right into the snow adventure.
Lunch or dinner

45 minutes

You are invited for a good meal with a drink in a local Czech restaurant.
Ride back

1–1.5 hours

Your driver takes you back to your chosen address in Prague.
Drop-off in Prague
Enjoy your evening!
Notes
Take some warm clothes, gloves, and a hat!
139 customer reviews


Had an amazing experience in the ski school in Moninec. We all enjoyed it a lot and the instructors were great.


Fantastic day trip and great value for money. No equipment (except good socks) needed, it's all provided on the day. Rock up n Ski. Great pub grub at the end of the day and back home with Bod the driver/entertainer. Well recommended.


The day trip skiing to Liberec was very well organised and communicated. Got picked up at my door at 8h20 and dropped back to the same place at 18h30. All parts of the day were well thought out, the stop off for coffee on the way to the slopes in Liberec. the patience of Kate (Katka) and Petra must be especially appreciated, their fun sense of humour made the day all the more special. Looking forward to the next trip already with them.


Very nice ski experience to Jested! Very very good instructors, lots of free time! Bob and David were very kind, polite and helpfull! I definitely recomend them! Unforgettable experience


This was a fantastic day trip from Prague. We were collected from our hotel on time by a very friendly and welcoming driver, who brought us on a 1.5hour drive to the ski school. We were provided with all the skiing equipment and our skiing instructor, George was extremely helpful and patient. At the end of the skiing lesson we were brought to a local restaurant, where you were provided with a dinner of your choice and a drink.
More about SKI & SNB trips for beginners & experienced
Other goodies to look forward to in the most popular ski resort Jested:
Ski rental offering top of modern equipment for skiing and snowboarding
Skiing and snowboarding school for adults and kids as well
Refreshment stands and restaurants located right by the ski slopes