Fantastic location
Winter sports resort only 1-hour ride from Prague.
Free pick-up & drop-off
Transfers from your Prague address to ski resort & back.
All-inclusive trips
Ski or snb gear, clothes, ski pass, instructors, lunch.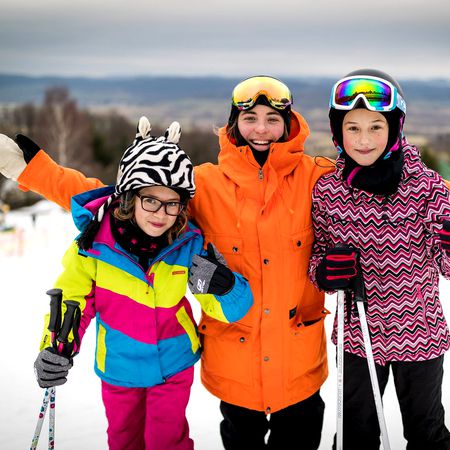 from €129
It only takes 2 minutes to book
Confirmation within 15 minutes
Book now to secure your spot
What is included
Pick-up & drop-off • from & to your hotel in Prague
Both-way transfer • in a heated minibus
Ski pass • ski school area for beginners, or all slopes for experienced
Instructor • English speaking teacher for beginners
Lunch or dinner • with a drink
Skiing gear • ski, ski poles, boots, helmet, goggles, gloves, skiing pants, and jacket
Snowboarding gear • snowboard, boots, helmet, goggles, gloves, snowboarding pants, and jacket
Ski and snowboarding package was amazing!!

Really really good trip to the mountain!!

Booked one skiing pass and really enjoyed a lot snowboarding. A very nice guy picked me up at the hostel and returned being very helpful.

Joseph our driver was amazing kind helpful. Ski instructor lovely. Highly recommend! Worth every penny.

Amazing! Highly recommended.

I went snowboarding with my brother for the first time and it was perfect, it was my favorite part of my trip in Prague.

Absolutely brilliant day trip. Great value for money, all equipment provided.

We take the snowboarding lesson last week and it was really cool. Our teacher Jakob was excellent and comes highly recommended.

The day trip skiing to Liberec was very well organised and communicated. All parts of the day were well thought out.

Me and my girlfriend went skiing today had a blast.
4 Moninec Ski Resort packages
Dec–Mar: pick-up available daily from 7 AM to 9 AM
8–9 hours total (from pick-up to drop-off)
Ski pass • valid throughout your 4-hour program in the ski school area
Crash course • 2-hour lesson with a professional instructor
Free snow action • 2-hour free skiing or snowboarding
Dec–Mar: pick-up available daily from 7 AM to 9 AM
8–9 hours total (from pick-up to drop-off)
Ski pass • for 4 hours in the entire ski resort
Dec–Mar: pick-up available daily at 2 PM
7–8 hours total (from pick-up to drop-off)
Dec–Mar: pick-up available daily from 7 AM to 9 AM
13–14 hours total (from pick-up to drop-off)
Ski pass • for 7 hours in the entire ski resort
When & where
Dec–Mar: pick-up available daily from 7 AM to 2 PM
Ski Resort Moninec, 75-minute ride from the centre of Prague
7–14 hours total (from pick-up to drop-off)
An amazing Skiing experience for beginners... Kate and Peeta were so humble and patient with us, the beginners...

Brilliant service. We booked a day trip skiing just after Christmas and the team made the impossible possible!

Our Ski instructor spoke very good English and was very friendly and fantastic at teaching !

We take a trip to ski with enjoy Prague and it was incredible! Bob and Martina was a great!

We went to ski in Jested and was worth every penny! Our van driver was amazing and the ski slopes were excellent! Great teachers also!

Very nice ski experience to Jested! I definitely recommend them!

This was a fantastic day trip from Prague.

Group of us went skiing and the team, day, food and atmosphere were brilliant.

Amazing ski session run by professionals.

We booked a skiing tour and it was really one of those trips that everyone needs to have in Prague.
Description
The winter resort Moninec offers to skiers & snowboarders 4 lifts on 1,200 of blue slopes in the elevations from 500 m to 700 m.
Thanks to the most modern and advanced snowmaking system Moninec winter sports resort offers great snow conditions even in the temperatures up to 10 °C.
Pick-up in Prague
Your driver picks you up at your preferred address.
Ride to Ski resort

1.5 hours

After leaving the city of Prague follows ~1-hour comfortable ride to the mountains
Gear

20 minutes

You'll be advised of the choice of the adequate ski or snowboard with the complete gear.
Snow action

8 hours

The non-experienced ones will be taken up by a professional instructor from the local ski school, who will teach them the basics of skiing or snowboarding. The experienced ones will get the ski pass and the map of the whole ski resort and may jump right into the snow adventure.
Lunch or dinner

45 minutes

You are invited for a good meal with a drink in a local Czech restaurant.
Ride back

1–1.5 hours

Your driver takes you back to your chosen address in Prague.
Drop-off in Prague
Enjoy your evening!
Notes
Take some warm clothes, gloves, and a hat!
129 customer reviews

Joined their "Skiing and Snowboard Experience for beginners" at the end of 2019, the whole package is simply thoughtful. From the beginning of reservation, the pickup on the date, and sending you off back to hotel after the whole day of enjoyment. Everything is clear and smooth, they coordinated and made a good communication via email. The team is very professional and experienced that when encountered some unexpected situations, they quickly provided another solutions and options that showed much flexibility that seldom happened on other tours. Highly recommend and you will be super lucky to have Kate and Tomas be your guide!


Had an amazing experience in the ski school in Moninec. We all enjoyed it a lot and the instructors were great.


Amazing!! highly recommended. Very organised trip from the agent. Ski instructors were very helpful... ⛷️

👌


This was a great trip for giving my son a chance to try skiing before booking a longer next year. The staff made the whole process easy and while my boy was taught by an instructor I could have a bit of a ski further up the slope. Excellent customer service and a fun day. Thank you!


Epic Team a group of us went skiing and the team, day, food and atmosphere were brilliant. We were picked up from our apartment and taken to the slopes and bought back after a day of skiing. Can't wait to go again