Fantastic location
Beautiful mountains only two hours from Prague.
Free pick-up & drop-off
Transfers from your Prague address to ski resort & back.
All-inclusive trips
Ski or snb gear, clothes, ski pass, instructors, lunch.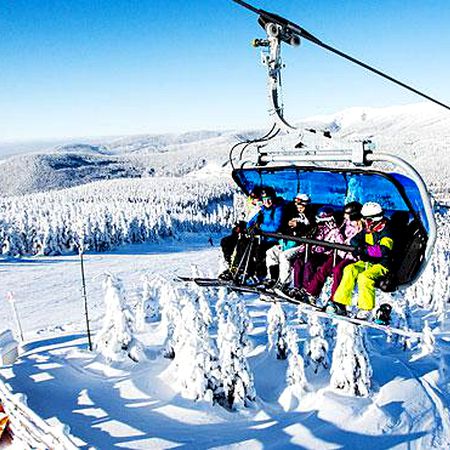 from CZK 7,300 / €290
It only takes 2 minutes to book
Confirmation within 15 minutes
Book now to secure your spot
What is included
Pick-up & drop-off • from & to your hotel in Prague
Both-way transfer • in a heated minibus
Ski pass • ski school area for beginners, or all slopes for experienced
Instructor • English speaking teacher for beginners (not included in programs for experienced - included in programs for beginners only)
Lunch or dinner • with a drink
Skiing gear • ski, ski poles, boots, helmet, goggles, gloves, skiing pants, and jacket
Snowboarding gear • snowboard, boots, helmet, goggles, gloves, snowboarding pants, and jacket
Booked one skiing pass and really enjoyed a lot snowboarding. A very nice guy picked me up at the hostel and returned being very helpful.

Joseph our driver was amazing kind helpful. Ski instructor lovely. Highly recommend! Worth every penny.

We take a trip to ski with enjoy Prague and it was incredible! Bob and Martina was a great!

Group of us went skiing and the team, day, food and atmosphere were brilliant.

Our Ski instructor spoke very good English and was very friendly and fantastic at teaching !

We went to ski in Jested and was worth every penny! Our van driver was amazing and the ski slopes were excellent! Great teachers also!

Absolutely brilliant day trip. Great value for money, all equipment provided.

Me and my girlfriend went skiing today had a blast.

An amazing Skiing experience for beginners... Kate and Peeta were so humble and patient with us, the beginners...

This was a fantastic day trip from Prague.
Spindleruv Mlyn Ski Resort package
Ski pass • for 7 hours in the entire ski resort
When & where
Dec–Mar: pick-up available daily from 7 AM to 8 AM
Ski Resort Spindleruv Mlyn, Krkonose Mountains, 120-minute ride from the centre of Prague
13–14 hours total (from pick-up to drop-off)
Ski and snowboarding package was amazing!!

A fantastic experience, at a competitive price.

Recommend to anybody who wish to get his adrenaline pumping.....I really loved it

We booked a skiing tour and it was really one of those trips that everyone needs to have in Prague.

Really really good trip to the mountain!! Even if you are experienced and you think it might be a small station it is 100% worth it!

Would highly recommend this company. Thanks for a brilliant day skiing/boarding! ⛷

Amazing ski session run by professionals.

Brilliant service. We booked a day trip skiing just after Christmas and the team made the impossible possible!

It was an amazing trip, my family enjoyed it very much. The instructors were great.

Amazing! Highly recommended.
Description
The winter sports resort Spindleruv Mlyn offers to demand skiers & snowboarders 17 lifts on 28 km of slopes in elevations from 700 m to 1,240 m: 10 km of blue/easy slopes, 16 km of red/intermediate slopes, and 2 km of black/difficult slopes.
Besides the wide selection of slopes, you will find in the Spindleruv Mlyn area also fun tracks, a permanent racecourse, and a snow park. The winter sports resort is also known for alpine skiing and a great choice of cross-country trails.
Pick-up in Prague
Your driver picks you up at your preferred address.
Ride to Ski resort

1.5 hours

After leaving the city of Prague follows ~1-hour comfortable ride to the mountains
Gear

20 minutes

You'll be advised of the choice of the adequate ski or snowboard with the complete gear.
Snow action

4 hours

The non-experienced ones will be taken up by a professional instructor from the local ski school, who will teach them the basics of skiing or snowboarding. The experienced ones will get the ski pass and the map of the whole ski resort and may jump right into the snow adventure.
Lunch or dinner

45 minutes

You are invited for a good meal with a drink in a local Czech restaurant.
Ride back

1–1.5 hours

Your driver takes you back to your chosen address in Prague.
Drop-off in Prague
Enjoy your evening!
Notes
Take some warm clothes, gloves, and a hat!
139 customer reviews


Fantastic day trip and great value for money. No equipment (except good socks) needed, it's all provided on the day. Rock up n Ski. Great pub grub at the end of the day and back home with Bod the driver/entertainer. Well recommended.


Very good / helpful staff and so good experience


The trip was amazing For sure was a well spent money All staff were great

Had a great day skiing followed by a really nice meal and drink, Martina was very friendly and helpful and nothing was too much trouble, would definitely recommend Matthew


Had a great experience, all the staff members were great and everything was very well organized, from transportation to the snowboarding experience. We enjoyed the trip a lot.